Okay, I admit, the title of this post might be a little outrageous, but while it may be exaggerated, it is not completely untrue.
So… this morning, I woke up to an email from Yelp. I was actually kind of excited to see what it said because I had recently flagged a completely false comment made by a business owner on one of my reviews. I eagerly opened the email, come to find out that Yelp had decided to remove my review!
Let's back up a little bit…
On 12/08/2009, I had posted the following review for Anna's Pet Grooming on Yelp:
Thanks to Anna, I went through one of the worst experiences of my life (no exaggeration). I'm not going to go through the entire story because that would take awhile. Plus, it still saddens me to think about it…

In short, about five years ago, I bought a poodle and chihuahua mix from Anna. I named him Hendrix and had the best time with him for all of about five days before he was showing symptoms that just weren't normal. I took him back to Anna who said she was going to have her vet check him out. I called at least once a day after that, and after a few days of Anna avoiding my questions and changing her stories, I just wanted him back so I could get him checked out myself. I never saw him again. 🙁

Come to find out, many others have had horrible problems dealing with Anna. I would not want anyone else going through what I did, so here are a few links that may help inform you about Anna's Pet Grooming…

The experiences told in these Ripoff Reports are not very different from what I dealt with:
–http://j.mp/6p3E7e
–http://j.mp/67rYB0
–http://j.mp/5FfY7q

"NORWALK PET STORE RAIDED – 2ND TIME IN TWO YEARS" (SEAACA):
–http://j.mp/7p5oA7

"Selling Sick Pets?" (CBS2 undercover investigation)
–http://j.mp/99PlNZ

There is a lot more about Anna that you can find online. She has operated under many names:
-Anna Berardini
-Anna Beradini
-Anna Bernadini
-Anna Gabriel
-Anna's Pet Grooming
-Norwalk Pet Grooming
-California Cockapoos
-Cockapoo Connection
-MaltiPoos and More

Also, here are more reviews that Yelp's algorithm has filtered out:
–http://j.mp/cEzqsB

It's obvious to me that some of these reviews are fake, but I'll let you make your own decisions. I just urge you to please do your due diligence if you are inclined to do business with Anna. If you do end up with a pet from her, please get them checked out by a vet as soon as possible.

I'm writing this now because something made me think of Hendrix while I was on Yelp, and I saw that Anna's Pet Grooming had one 5-star review. It seems like Jill S. is lucky to have had a good experience. I just wanted to make sure that others are aware of the other side of the story. So, hopefully Hendrix helped save people some grief and heartache. I just wish there was more we could do for all of those sick puppies.
Now, fast-forward almost nine months later to 8/31/2010 when Anna, herself, left the following comment in response to my review:
This is one of those customers, that make you wish you had never met him. He killed my tea-cup puppy by taking him to the vet 2 days after purchase, never showed the vet his shot reord, the vet told me, and the vet vaccinated him again, when it was already done 3 days earllier. then he takes him the same day on a 8 hour trip to Arizona. which he tried to cover up. then he told me the puppy died, but wouldn;t show me the body, or give me a reciept from a vet, because he never seeked help when the puppy went sugar down. the law says you have to show the breeder some proof. common sense,,, Then he came screaming to my store and stole my puppy contract out of my hand. who knows what this idiot was thinking. God help puppies with stupid, people who buy them… you never know.
That brought back a whole bunch of emotions and added even more. On 9/1/2010, I flagged her comment and updated my original review with the following, in response:
There is nothing in her comment that is accurate to my experience with her. Of course she didn't acknowledge the reports and news investigations I referenced. Her comment, along with my past experiences, other reviews, and numerous reports leads me to believe that there is something seriously wrong with this woman. I can't believe she has the audacity to stir up these emotions after all these years, let alone making up stories using childish language and telling complete lies. I seriously don't understand how she is still in business.
As of today, you can still see all of this in Google's cache of the Yelp page. I have also taken a screenshot of the cached page, as Google will update their cache soon (click on the image to enlarge):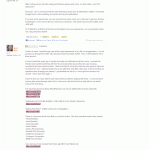 If you go through the cached page, you can see that there was also a reviewer who mentioned that they saw an ad for Anna's Pet Grooming in the OC Register. So, I took it upon myself to contact OCReggie on Twitter to notify them of this advertiser's atrocious business practices and see if there is anything they could do. Much to my delight, they responded promptly and I gave them the lowdown. I don't know if anything will come of it, but I was satisfied that I was able to put it on their radar.
With all that being done, I thought I would be able to move past this whole issue and not have to relive all of these horrible emotions again. Of course, that wouldn't happen.
That brings us to this morning and Yelp's email, which read:
Hi CK,

We're writing to let you know about our decision to remove your review of Anna's Pet Grooming. Your review was flagged by the Yelp community, and our Support team has determined that it falls outside our Review Guidelines (http://www.yelp.com/faq#great_review) because it relies on hearsay.

We review every situation with detail and take the removal of reviews very seriously.

Regards,
Miranda
Yelp User Support
San Francisco, California

Yelp Official Blog |http://officialblog.yelp.com
Yelp Frequently Asked Questions |http://www.yelp.com/faq
Hearsay??? According to Dictionary.com, the definition of hearsay is:
unverified, unofficial information gained or acquired from another and not part of one's direct knowledge: I pay no attention to hearsay.
an item of idle or unverified information or gossip; rumor: a malicious hearsay.
If you have read my review, it wouldn't take much to realize that I wrote about my own personal experience. Also, wouldn't one consider CBS2 and SEAACA reports as verified and official information?
Okay, so I included three links to Ripoff Reports, mentioning that they told of experiences "not very different from what I dealt with" personally. Nonetheless, using less than 5% of my review to refer to the experiences of others that were not unlike my own surely doesn't substantiate the claim that my entire review "relies on hearsay."
Here is a screenshot of the full email which also contained the contents of my removed review (click on the image to enlarge):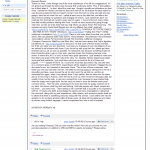 If you look at my email conversation, you can see that I tried to reply to Miranda with the following message:
Are you kidding? Hearsay? Did you even read the review? How did you construe my own personal experience in addition to CBS and SEECA reports as hearsay? Please advise.
—cK
To that, I received the following auto-response:
Thanks for emailing Yelp.

Unfortunately, you have reached an email address that is not in use.

If you'd like to contact us please go tohttp://www.yelp.com/contact

SYOY (See You On Yelp)
The Yelp Team
So, I go to their contact page and find the following:
Reviews may come or go for a few different reasons:

A user may have removed his or her review.
Yelp may have removed the review for violating our Review Guidelines or Terms of Service (in which case we will typically notify the reviewer).
The review may have been suppressed by Yelp'sreview filter. The filter decides how established a particular reviewer is and whether a review will be shown based on the reviewer's involvement on Yelp. The process is entirely automated to avoid human bias, and it affects both positive and negative reviews. Since users can become more or less established over time, their reviews can disappear and reappear over time as well. Either way, we never actually delete these reviews, and they can still be found on the reviewer's personal profile page. These filtered reviews are also viewable by clicking on the link at the bottom of your business page.

Note: Our support team cannot manually restore reviews that are not currently displayed, should you contact us about missing reviews you will receive the information above.
I can't even contact Yelp regarding my review that they removed for no good reason! That is the main reason why I took to Twitter, and why I am writing this post. I am unable to make sense of the reason why my review was taken down, and Yelp does not offer a proper method to for further explanation.
Yelp may be able to use a lesson in online reputation management.
The kicker for me is the last line of Miranda's email:
We review every situation with detail and take the removal of reviews very seriously.
How seriously? Let's get the story straight…
Fact: I wrote about my personal experience of Anna's Pet Grooming on 12/08/2009.
Fact: I included references to a news investigation and a raid involving law enforcement.
Fact: After being up for almost nine months, my review was found to be the most "Useful" by other Yelpers.
Fact: The business owner posted comments on numerous negative reviews on 8/31/2010.
Fact: My review was removed on 9/3/2010.
Fact: Yelp removed my negative review, claiming it falls outside of their Review Guidelines because it relies on hearsay.
Fact: I wrote about a personal experience and used less than 5% of my review to link out to reports from others who had experiences similar to my own.
Fact: Yelp does not offer a proper communication channel to receive further explanation for removed reviews.
Considering all of this information, I have yet to find a good reason for Yelp to take down my review (I won't even get into whether or not I think they had been paid off)…
So, that leads me to the conclusion that Yelp supports animal abuse.