I may be a bit of a podcast junkie. I listen to 15-20+ hours of podcasts per week.
All the podcasts I listen to:
Click on the toggles to reveal the 150+ podcasts I listen to regularly.
Entertainment
This playlist includes podcasts that I may play in the background, zone out to, or relax with and enjoy,
Podcasts (10)
Cadence
The Cut on Tuesdays
Every Little Thing
Fallacious Trump
Fresh Air
ID10T with Chris Hardwick
Note to Self
Real Time with Bill Maher
Reply All
WTF with Marc Maron
Health Favs
These podcasts dive deep into the cutting edge of health, and I listen to almost every single episode.
Podcasts (12)
Ben Greenfield Fitness
Bulletproof Radio
Collective Insights
FoundMyFitness
High Intensity Health
Mastering Nutrition
Nourish Balance Thrive
The Peter Attia Drive
Primal Blueprint
Revolution Health Radio
SelfHacked Radio
Smart Drug Smarts
Health Talk
I don't listen to these podcasts as much as my favs, but I try to listen to all the topics that interest me.
Podcasts (9)
The Fat-Burning Man Show
Kyle Kingsbury Podcast
Move Your DNA
Paleo Magazine Radio
Psychology of Eating
ReWild Yourself
The Paleo Solution
Shrugged Collective
The Urban Monk
History / Storytelling
Most of these podcasts are very well produced, and I listen to almost every single episode.
Podcasts (20)
30 for 30 Podcasts
Against the Rules
American History Tellers
BackStory
Believable
Broken Record
Dolly Parton's America
Heavyweight
Mogul
More Perfect
Radiolab
Revisionist History
Rough Translation
Scattered
This American Life
This is California
The Thread
UnErased
We Came to Win
White Lies
Investigative Journalism
Most of these podcasts are also very well produced and I listen to almost every single episode.
Podcasts (10)
Bundyville
Climate 2020
Drilled
Embedded
How To!
Invisibilia
Outside Podcast
Reveal
The Tip Off
What Really Happened?
Performance Talk
These podcasts are generally interviews or talk radio, and I listen to certain episodes that interest me.
Podcasts (12)
Bruce Lee Podcast
Good Life Project
The Joe Rogan Experience
The Knowledge Project
The Life Stylist
Making Sense
The School of Greatness
The Secret to Victory
Sport Psychology Today
Sports Mastery
The Tim Ferris Show
Without Fail
Science & Health Shorts
These podcasts range from 1 to 15 minutes in length, and I listen to almost every episode.
Podcasts (11)
60-Second Science
BrainStuff
Everyday Einstein
Get-Fit Guy
The HBR Channel
The Indicator
Nutrition Diva
Savvy Psychologist
Short Wave
TED Talks Daily
Two Guys on Your Head
Science Favs
These podcasts cover various sciences, and I listen to almost every single episode.
Podcasts (13)
All In The Mind
Change Agent
Choiceology
Fallacious Trump
Freakonomics
The Happiness Lab
Hidden Brain
Inquiring Minds
Only Human
Origin Stories
Planet Money
Undiscovered
You Are Not So Smart
Science Talk
These are interview, panel, and compilation style podcasts, and I listen to most episodes.
Podcasts (7)
Science Talk
Solvable
StarTalk All-Stars
StarTalk Radio
The TED Interview
TED Radio Hour
Tell Me Something I Don't Know
Science Weekly
These podcasts cover the latest news in science, and I will listen if I have time or see a topic of interest.
Podcasts (4)
Nature Podcast
Science Friday
Science Weekly
The Weirdest Thing I Learned This Week
Sports Talk
Most of these are soccer podcasts, and I listen to these occasionally when I'm going to bed.
Podcasts (12)
Alexi Lalas' State of the Union
The Bill Simmons Podcast
Caught Offside
Corner of The Galaxy
ExtraTime
Game of Our Lives
Golic and Wingo
Men In Blazers
Planet Futbol
Total Soccer Show
The UPSL Podcast
The USL Show
True Crime
These are my favorite true crime podcasts, and I listen to every single episode.
Podcasts (29)
13 Alibis
Accused
Bad Batch
The Ballad of Billy Balls
Bear Brook
Broken
The Clearing
Cold
Conspiracyland
Conviction
Crime Beat
Crimetown
Culpable
Detective Trapp
The Dropout
In the Dark
Lateral Damage
Man in the Window
Monster
Murder in Oregon
Murderville
Over My Dead Body
Room 20
Root of Evil
Serial
The Shrink Next Door
The Sneak
The Thing About Pam
To Live and Die in LA
True Crime Bedtime
These podcasts are more monotonous, so they allow me to fall asleep, and I listen to most episodes.
Podcasts (8)
Casefile
Confronting: O.J. Simpson with Kim Goldman
Crime Junkie
Criminal
Gangster Capitalism
Insomniac
Sleuth
True Crime Garage
True Crime Drive
These podcasts are the ones my girlfriend and I have listened to together while driving.
Podcasts (8)
Broken Harts
Dr. Death
Happy Face
Hell and Gone
Hit Man
The Last Days of August
Missing & Murdered
Uncover
WEBOSIS
These are the podcasts I like for business, and I listen to episodes that interest me.
Podcasts (12)
The Business of Digital
Coywolf
HBR IdeaCast
Marketing Speak
Math & Magic
MozPod
Online Marketing Made Easy
The Science of Social Media
The Search Engine Journal Show
SEO 101
Voices of Search
WorkLife
Rejected Podcasts
These are the podcasts that I tried out, but didn't care for due to various reasons.
Podcasts
Entertainment
 Science

Note to Self
Stuff You Should Know

Sports
True Crime

Generation Why
Once Upon a Crime
Sword and Scale
The Trail Went Cold
Up and Vanished
My favorite podcast app is Overcast. It features innovative innovative technologies like Smart Speed, which cuts out dead air and naturalizes speech.
This cutting and normalization is really magical when speeding up the audio. I've saved an extra 455 hours beyond speed adjustments so far with Smart Speed!
I began using Overcast in 2015 when Apple's Podcasts app kept crashing, and then one day all of my podcasts disappeared. Ever since then, I've been paying the low price for an Overcast Premium account – it's only $9.99 per year, which gives you the option to disable banner ads (which really aren't that intrusive) and upload audio.
Being able to utilize Overcast's features like Smart Speed on an audiobook is killer!
In addition to Overcast, I still keep Apple's Podcasts app on hand for discovery and reading reviews.
I also use Castbox for its search feature. Its in-audio search is amazing for finding episodes that cover specific topics you're looking for.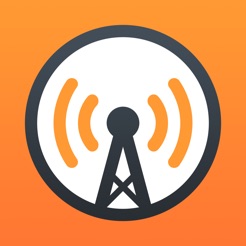 My girlfriend and I are starting up a constructive media endeavor that combines our interests in storytelling and advocating for functional health practices.
We are currently in the process of developing a serialized podcast. Stay tuned!
I could add so much more info, like my thoughts on each podcast I listen to, but that'd be a lot of material to sift through.
I'd rather interact directly about this kind of stuff. Got any questions or recommendations for me? Hit me up on the Twitter!
I generally check Twitter at least once a day. Most days, it's 1-2 times per day. Holla @ me with your #PodRoCK questions and recommendations!