I got to go see a private preview screening of Talledega Nights: The Ballad of Ricky Bobby last night. The company I work for sponsors one of the big auto racing teams and I think our PR division had something to do with the movie (- I'm not totally sure how we got hooked up). So I invited my girlfriend, Paula, and our friends, Kevin and Kristina, for the special event.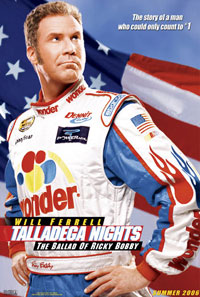 In true Will Ferrel fashion, the movie was hilarious! I really didn't know what to expect, but I was pleasantly surprised. There were a couple of scenes that were so ridiculously stupid that you couldn't help but laugh your ass off.
I do think the movie would've been a bit better if they didn't give away so much in the trailers and teasers. I hate when I'm watching a movie for the first time and I already know what is going to happen.
Like the part where Ricky Bobby is blindfolded and tries to drive by "feeling the road" and instead, crashes into parked cars and ends up in the neighbor's living room. In the trailer, they could've just shown him running into the cars… I think that would've been funny enough. Then, at the movies, we would've seen him crash into the house and it would've been that much more hilarious! Right?
Nevertheless, I don't think you can really go wrong with a Will Ferrel movie. With that said, I think it will be tough for him to top Old School, even though he wasn't the lead in it. Now, that's a classic movie. 😛
So, If you are going to check out Talledega Nights, I suggest that you do not watch the trailer. That probably goes for any movie…
********
The show was at the Irvine Spectrum, so we headed over to Fox Sports Grill for a late dinner and some drinks. It was my first time there… that place is awesome! I liked it a lot. The place looked really fancy, so I was hesitant to go in because I just wanted some grub and beer… come to find out that the food was relatively inexpensive!
The place was very open and had a super high ceiling. There were projections screens and flatscreens all over the place. There were pool tables and even a bowling alley! The main bar was enormous and there were booths around the perimeter.

It is a sweet place to go if you want to be at a bar to watch a sporting event, though I could imagine that the place gets packed…
Piece,
—cK