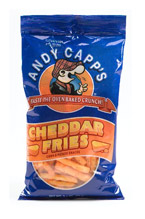 The best snack food ever is Andy Capp's Cheddar Fries. I happened upon a bag at the 7-Eleven in Wrigleyville when I was staying at Kartik and Samp's last month and did not hesitate to snatch it. I hoovered the entire bag in like 15 minutes.
Cheddar Fries and Hot Fries. It's either one or the other, depending on your mood. They're both exquisite.
It sucks that I can never find them anywhere. I've never seen them in California. No one here has even heard of them… and I've spoken outwardly about them more than I probably should.
I've found some comparable snacks in the form of TGI Friday's Hot Pepper Jack Cheese Fries and Frito-Lay's Cheetos Crunchy Cheddar Jalapeno, but they are just not the same.
I think I'm just going to have to order a couple cases.
Cheddar,
—cK