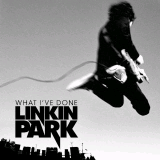 Linkin Park's new single, What I've Done, is finally out! You can go listen to it on my MySpace page.
I wrote about their upcoming album all the way back in September… Titled Minutes to Midnight, it's finally due to be released on May 15th.
I'm a Linkin Park fanatic, so I fell in love with the song the first time I heard it. I think it is a lot different and a lot more raw and devoid of layers and layers of tracks that you may be used to from LP's past releases, but Chester's supernatural vocals are unmistakable.
Apparently, the track was leaked onto the net on April 1 and officially released on April 2. I'm sure it's going to be overplayed on the radio, which I don't mind…
The story seems to be that Linkin Park has moved away from their signature nu-metal/rap-rock sound for this album and stripped it down to a classic rock and hip-hop feel with a more melodic and diverse twist.
I can't wait to hear the other tracks.
Check it,
—cK