Dude… so, I'm sittin' here watching the 100th episode of Cribs on MTV. Joey Fatone ('N Sync, My Big Fat Greek Wedding, Rent) is the first to go and, so far, he has the coolest house that I have ever seen.
The inside of the house is freakin' huge! I think it said something like 16,000 square feet! That is about 15 times the size of my condo. The master bedroom is enormous, the master bath is gigantic, and the closet is probably bigger than my condo.
Outside, there is a super-colossal pool complete with a cliff to dive off of, a grotto, and a cave featuring a Benihana-style hibachi grill.
What took me over the top was when he showed us his garage. He has a Lexus SC430, a Prowler, a Viper, and a bunch of other cars… but best of all, he has KITT from Knight Rider! Freakin' KITT! I want KITT!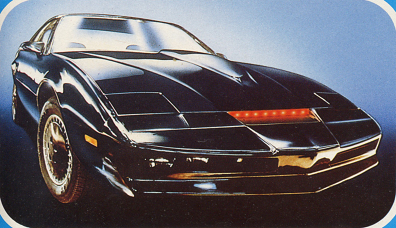 Who else knows that KITT stands for Knight Industries Two Thousand? Who else knows that when KITT was scrapped, part of his memory was implanted into a cops brain? Who else knows that Michael Knight revived KITT in a '57 Chevy before giving him the Knight Industries Four Thousand body?
I want KITT! Joey Fatone, you are one lucky bastard…
Not to mention, he has a drive-in movie theater in his backyard…
Knight,
—cK