Last Friday, I had the pleasure of meeting Anthony Bourdain! I was lucky to find VIP tickets for Tony's stop at Spreckels Theatre in San Diego as part of my girlfriend's birthday present.
The show was awesome, as expected. Tony spoke for over an hour, and then answered questions from the audience for about another 20 minutes or so. Pam and I are both huge fans of Tony's – we follow him on Twitter, we've seen every episode of No Reservations, and we loved him as a judge in last season's Top Chef. I have yet to read any of his books, but Pam has read a few.
[blackbirdpie url="https://twitter.com/cKdisco/status/130120307162890240″]
My first thought when Tony walked out onto the stage was, "This guy is a rockstar!" The crowd was going nuts for him! To be honest, between his TV shows and various interviews (podcasts, videos, articles), there wasn't much new material in the show that I haven't heard or known about before. Even so, I was in awe of the man. It's no secret that Tony is snarkily well-spoken, and I'm jealous of his seemingly impromptu wordplay. There was tons of laughs and applause throughout the show.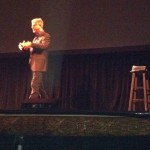 I won't give out any spoilers, but there are a few reviews and recaps out there on the web if you search for them. The most inspiring moment for me was when Tony started talking about some place in Vietnam that he enjoyed. I can't even begin to remember the name of the place, let alone pronounce it (and I'm Asian). However, it just rolled off of Tony's tongue and I just thought, "Man, this guy has been everywhere." I travel occasionally, but that really made me think harder about what I could do to travel to more places more often!
Meeting Tony after the show really was a treat. I would estimate there being around 150 VIP ticket holders who got to hang out backstage (out of the ≈1500 that was in the audience). There was an abundance of catered food and drink, but everybody was lining up to meet Tony. That's when Tony walked out into the middle of the crowd and told everybody that they should be drinking… and eating, and not to worry because he's going to stick around until he's talked to everybody! Purely, a class act.
The only issue that I had was the lack of promotion for the event. That is why I said "I was lucky to find VIP tickets" or any tickets at all, because I just happened to stumble upon the show randomly. I actually asked Tony about this, exclaiming that I'm sure he could sell out bigger venues. He was quite humble in letting me know that he gets nervous about stuff like that.
Apparently, there are a few different production companies that put together the shows rather than having everything under one umbrella. I'm not sure why it's done that way, but there's no mention of the show on TravelChannel.com and no official tour website. If you check Ticketmaster, there is a listing of his shows, but I don't know if all of his shows are handled by Ticketmaster.
Anyway, if you get a chance, I highly recommend seeing Tony live. Especially if you're a fan. Just being in Tony's presence was awesome. He also pairs up with Eric Ripert in some of his shows out East, which I am jealous of! The regular tickets were around $50, which is a no brainer. The VIP tickets were around $150, which was totally worth it for us!