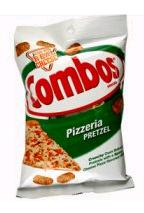 YUM!
For the first time, I just went to the CVS across the street from where I work (there's a Rite Aid next door that I normally go to) and saw that they had Combos!
Much like Cheddar Fries, I don't remember ever seeing Combos anywhere since I've lived in California (3.5+ years).
Needless to say, I didn't hestitate to pick up a bag of my favorite flavor, Pizzeria Pretzel Combos. I am eating them right now. 😛
These are the flavors that are available:
Nacho Cheese Pretzel (the original flavor)
Cheddar Cheese Pretzel
Cheddar Cheese Cracker
Pizzeria Pretzel
Pepperoni Pizza Cracker
Zesty Salsa Tortilla (I don't think I've ever seen these… they aren't even on the official website!)
I love finding old favorites. Any other Combos lovers out there? What is your favorite flavor?
Lates,
—cK