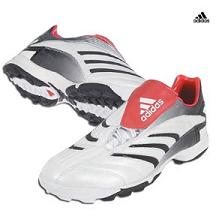 For those of you that have not known me back then, I used to be a huge soccer stud in high school (over-exaggeration noted). I went on to play soccer in college, but my competitive career ended due to an injury.
Anyway, to make a longer story shorter… Up until about a month ago, I literally haven't even touched a soccer ball for about four years! Soccer used to be my life and I continued playing recreationally through college, but ever since I graduated and moved out here to SoCal, I never got back into it…
Until now! I've been saying that I'm going to join a rec/adult league out here for the past three or so years and I finally have. I've been practicing for about the past month and my first game is on Wednesday…
I can't believe that I've waited this long to play again. It feels so good to be back out on the pitch and running around. I'm nowhere near my peak level and I definitely need to keep working on my endurance and quickness, but surprisingly enough, I still have my touch.
It's also exciting for me to be buying soccer equipment again. Before, my parents would pay for everything, and they always bought me prime goods, but now I'm all grow'd up and I have to throw down my own hard-earned dollars. For boots, I ended up indulging in the Adidas Predator Absolion TRX Turfs pictured above. They are sweet!
I went with the Turfs rather than the Firm Grounds for a couple of reasons. First of all, I have a history of ankle injuries… and being out of the game for so long, the muscles around my ankles probably are not as strong… so, the turfs will give me more support. Second, the fields that I've been playing on out here have the grass trimmed really short and it never rains out here, so the ground is always hard. Last, and most importantly, I love controlling the ball with the sole of my foot and the turfs offer a lot more traction for me to do that.
I love weekends as it is, and yesterday I woke up at 6:30 in the morning for soccer practice at 7:30a. That's earlier than I get up for work!
It wasn't hard at all to get up, though. I look forward to practices. The weather was beautiful, too. We practiced for two hours and then I drove home with the top down on my car.
You just can't beat that on a weekend morning in December.
Lates!
—cK