Sun Publications (IL)
October 15, 1997
Section: NEWS
Page: 53

PLAINFIELD SHUT OUT
Author: Mark Feldmann / Sun Correspondent

Beating the Plainfield High School boys soccer team takes a two-prong plan.

First, unplug Wildcat scoring machine senior attacker Chris Chung, who has 17 goals in 17 games.

Second, try to sneak a few goals past senior goalkeeper Ryan Manning, who has been stingy in front of the net all season.

Batavia High School did both these things and more last Thursday, shutting out Plainfield 2-0 in a Suburban Prairie Red conference showdown.

The loss dropped the Wildcats to a 9-6-2 for the season, and 3-4-0 in conference play.

It also deflated the team a bit.

"We didn't play very spirited soccer," said Plainfield coach Steve Schermerhorn.

"If we would have played like we did in the past four of five games, I think we would have won.

I'm quite disappointed, as was the team."

Instead, the Wildcats came out flat against Batavia, now 5-1-1 in the conference.

"Batavia did everything we didn't," Schermerhorn said.

"They ran hard to the ball, played aggressive away from the ball, and they played with emotion."

Joe Krachala and Justin Greer scored Batavia's goals.

Plainfield didn't have an offensive answer.

All season, the Wildcats have depended heavily on Chung, a two-year starter, to jump-start its offense. Before the Batavia game, Chung had scored 17 goals in 16 games, but was held scoreless against Batavia.

"We basically run a one-man offense, and that's Chris," Schermerhorn said. "But in this game, our midfielders couldn't support him like we usually do."

The highlight for the Wildcats was the play of goalkeeper Manning, a three-year starter who posted another strong outing.

He gave up only two goals to Batavia and beat Minooka 2-1 on Oct. 6.

"Manning kept us in the game," Schermerhorn said.

Plainfield went on the road Tuesday to play conference foe Glenbard South High School, then returns home to play another conference game against Fenton Thursday.

The Fenton game, the season's last home game, will start at 6 p.m., and feature a salute to the team's eight senior players.

"The next three games could make or break almost anyone in the conference," Schermerhorn said.

"Right now, our team is upset.

But I told them to let it go and re-focus for Glenbard South.

This team is still in the thick of things."

Schermerhorn has been pleasantly surprised by this season's team.

After losing 15 seniors from last year's squad, Schermerhorn expected a rebuilding this year.

But the Wildcats haven't missed a beat.

"We're about two or three games above where I thought we would be playing," he said.

Plainfield ends the regular season with two games on the road: against conference rival Oswego Oct. 20, and against IMSA Oct. 22 before heading to regionals.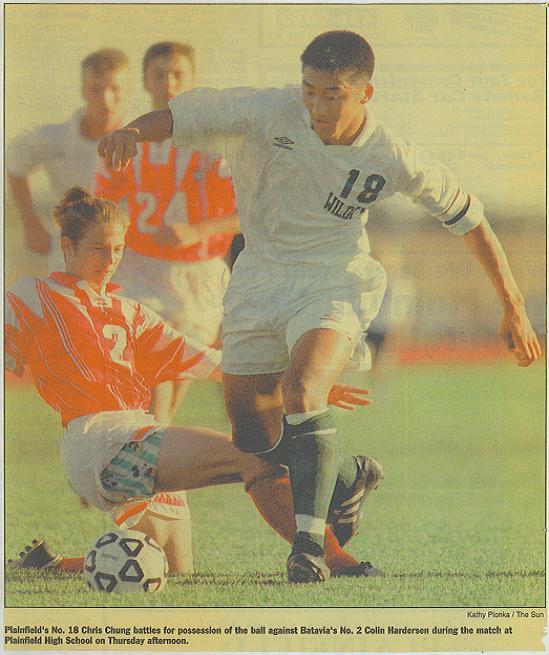 Caption:
Plainfield's No. 18 Chris Chung battles for possession of the ball against Batavia's No. 2 Colin Hardersen during the match at Plainfield High School on Thursday afternoon.